For the fifth year in a row, Sunwest will be attending the Hilton Show in Santa Fe coming this August 14th - August 18th. We are bringing a large selection of handmade Native American jewelry created by local New Mexico artisans, Pueblo pottery, and North American turquoise rough, cabs & beads as well as high-grade specialty turquoises from around the world. Look for specialty items and new work from your favorite local artisans! Make sure to stop by the Canyon Ballroom at the Hilton Show and our shop Sunwest on the Plaza to see some of these items listed below.
Acoma Pottery from Frederica V Antonio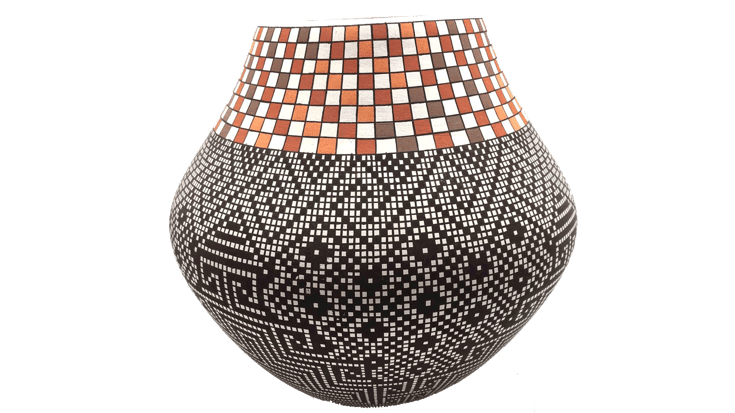 Frederica V. Antonio, born into the Acoma Pueblo in 1968, has been designing & creating traditional Acoma pottery since she was sixteen. Her intricate designs and attention to detail make her work instantly recognizable , and her work is sought after by collectors of Southwestern artifacts and Pueblo pottery. Frederica holds fast to the Acoma traditions of pottery making, creating her own colors and brushes from the same natural resources that her ancestors have been using for centuries. She has been quoted as saying that a single piece of her pottery can take a month to create. The devotion given to these pieces shines through, making a truly unique piece of collectible pottery.
Frederica, along with four other pottery artists from surrounding pueblo's, was also recently chosen to create a commemorative pottery mug for a new Starbucks opening in Albuquerque. The mug received high praise for it's design and went on to be turned into a travel mug that can be purchased on several different sites. Once you see Frederica's pieces in person, you will understand why her work receives the respect that it does.
Chester Poleyestewa Kachinas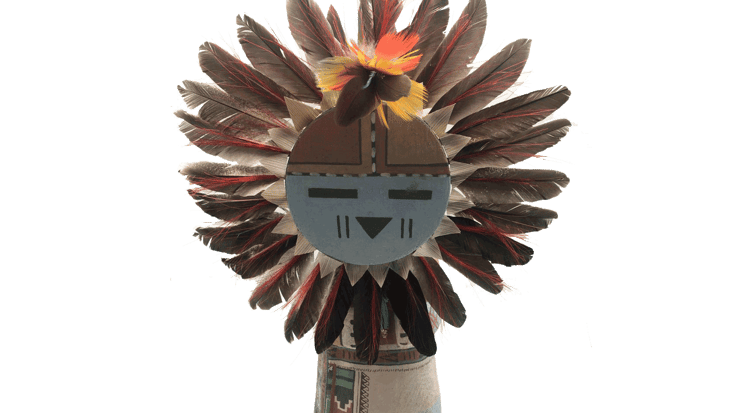 Perhaps one of the best known Kachina carvers in the world, Chester Poleyestewa is a third generation carver from the Hopi tribe. Chester has stayed true to Hopi traditions and designs and his Kachina's are very similar to the ones his ancestors carving in the early 1800's. He uses traditional cottonwood root for his wood, and creates all of his own paint from natural resources. Poleyestewa also takes special care to only use materials from animals in a legal way, only using bird feathers that have naturally fallen off the animal.
Kachinas (or katsinas) were originally created to teach young women about the traditional dances of the tribe and the spirits that the dances are meant to honor. They were typically hung on the wall in traditional pueblo homes, but today's Kachinas can be hung or stand up on their own. A traditional part of Southwestern tribal culture, Kachinas became popular for collectors of Native art around the country during the 20th century.
Ask about our collection of Kachinas, totems and Native American sculpture including toys and folk art at Sunwest on the Plaza!
Vintage Lander Blue Turquoise Necklace
This rarest of all Southwestern turquoise classics is natural gem-grade turquoise, making it pound for pound, the most valuable turquoise in the world. Lander Blue Turquoise is unanimously considered to be the highest quality spiderweb matrix turquoise to have ever been found, any where in the world.
Known as a 'hat mine', because the load was so small you could cover it with a hat, it is said that not more than 110 pounds of turquoise were ever recovered from the mine. As the highest quality gem-grade turquoise in the world and the rarest, and it commands the highest price of any turquoise in the world.
Lander Blue Turquoise is a deep blue turquoise with a strong, tight black spiderweb matrix. Rita J. Hapgold, a blackjack dealer at the Nevada Club at Battle Mountain, discovered the Lander deposit in 1973 while picnicking at Indian Creek. She collected some nuggets in a can and later claimed the site as the Mary Louise Lode Mining Claim. Later that year she sold her claim to Marvin Syme and Henry Dorian, who formed the Lander Blue Turquoise Corporation.
Sunwest will be showing a vintage Lander Blue Necklace, circa 1970 at this years Hilton Show. Collectors and serious inquiries can contact us at 1-800-771-3781 for more information on this classic Southwestern treasure.
North American Turquoise Rough, Cabs & Strands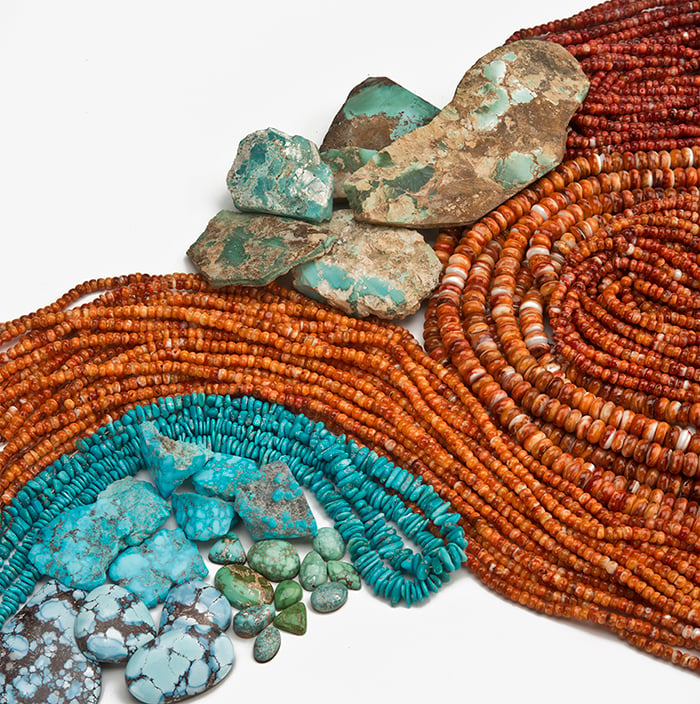 Sunwest's specialty has always been turquoise, and we will have a variety of stone available at this event. We will have a large selection of North American turquoise, including turquoise rough, cabs, beads and high-grade turquoise from specialty mines around the world. Ask us about ordering specialty stamps for jewelry artists while you are at the show and contact our stone room if you have any questions.
Sunwest OxyBead© Jewelry
Made in New Mexico! Sunwest is proud to offer our own line of sterling silver oxidized beads used for our own line of necklaces, earrings and bracelets. Our artisans also use OxyBeads© to complement their unique creations. Shop our unique selection of Sunwest Jewelry at the Hilton!