Turquoise has an ancient and universal appeal, making it a significant gift. Celebrating Mom with turquoise is a tradition in the Southwest and knowing Mom's signature style can help you decide what kind of turquoise jewelry is perfect for her. If it's Mom's first turquoise, nothing could be more special.
Memorable gifts arrive in every size package, at every price point and the same is true of turquoise gifts.
New Moms, Grandmas, Super Moms … celebrate the Mom in your life! Take 50% OFF your online purchase of genuine Native American handmade jewelry with your shopping Coupon Code: SUNWESTMOM
COLLECTORS & TURQUOISE JEWELRY

Turquoise collectors pick their jewelry very carefully, watching for a mine they don't yet have a piece of, something to add to their North American Turquoise collection, something exotic or rare, or another piece of a long-time favorite stone or artist. Rare and collectible turquoise comes at a higher price point, but many turquoise mines produce stone that is accessible and part of every collection. The bottom line with collecting turquoise is to pick what speaks to your heart, so it is sure to be a genuine treasure for generations to come.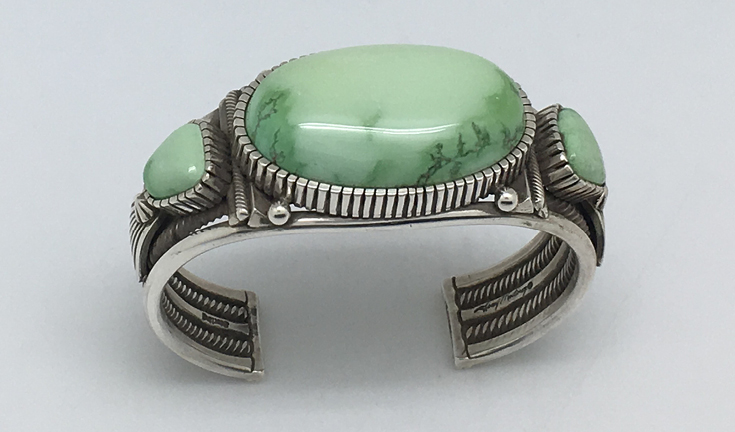 Orvil Jack Turquoise Cuff by Terry Martinez
LEGACY TURQUOISE JEWELRY
In the Southwest, jewelry becomes a family tradition. Heirloom jewelry is a connection to our past, and many jewelry collections are passed on for generations, kept in the family as priceless mementos of times and loved ones whose memories we cherish. Gifting jewelry is part of the creation of that legacy, and turquoise gifts touch all hearts. A stone or the work of an artist that feels special to you will convey that warmth to the wearer and honor your family's traditions.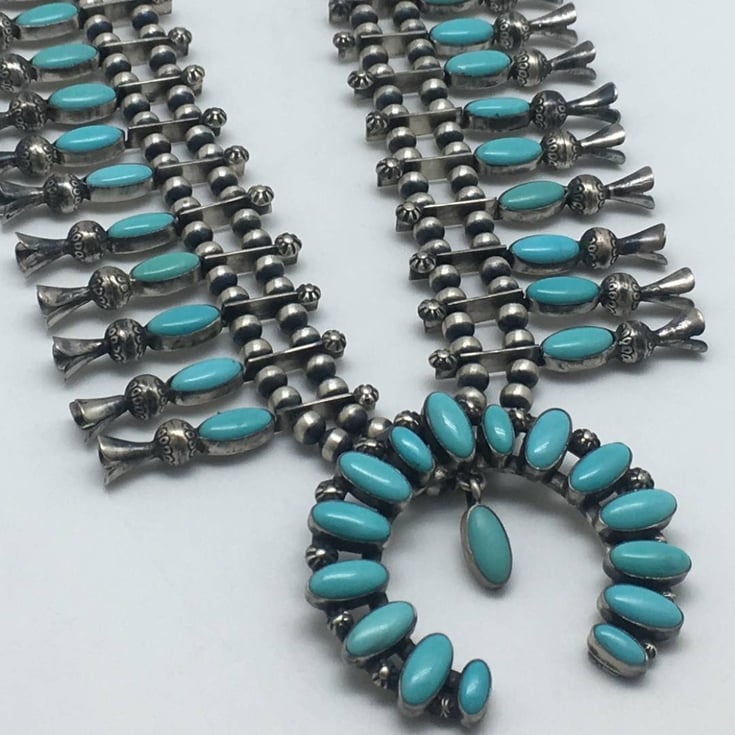 Campitos Turquoise Squash Blossom Necklace by Raymond Beard
TURQUOISE TRENDS
Memorable gifts can also be a fashionista favorite! Southwest style jewelry is enjoying world-wide popularity and turquoise bangles, bracelets, earrings, necklaces, conchos & bolos (yes, bolos for her!) are trending style staples. A little secret – turquoise never goes out of style!


Sleeping Beauty Turquoise Blossom Pendant by Danny Clark
CLASSIC, TRADITIONAL STYLES
Native American silversmiths of New Mexico often work in traditional styles handed down to them from previous generations of silversmiths. The patterns, styles & techniques are learned and carefully mastered from a young age. Cluster jewelry, squash blossom necklaces and row cuffs are just a few of the styles of Native American jewelry that have persevered over time and are sought after as symbols of tradition and culture in the Southwest.
Traditional Style Row Bracelets by Paul Livingston
CONTEMPORARY ARTISTRY

Southwest artists continue to provide the world with stunning contemporary jewelry. Pushing the limits of traditions and expression, unique works of art in stone & silver are part of the lineage of excellence in Native American handmade art & jewelry. You might discover Mom's next favorite artists, style or stone!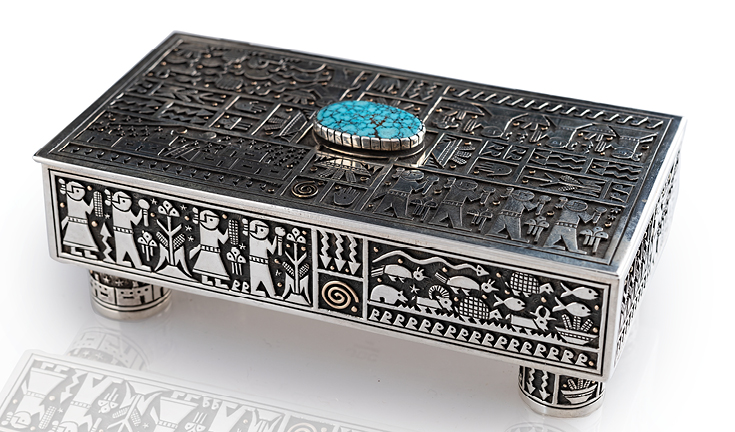 Turquoise Jewelry Box by Joseph Coriz
Treat yourself Mom! Take 50% OFF your online purchase of authentic Native American handmade jewelry with your shopping Coupon Code: SUNWESTMOM