Can you believe the holiday season is here? At Sunwest Silver, this is our favorite time of the year. Stress less and keep reading because we are announcing a special sale just for you! Use code FRI50 at checkout.
ALL HANDMADE JEWELRY IS 50% off with code fri50!
General information
Sunwest Handmade - ABQ store & Online - 50% off Nov 29 & 30
Sunwest Silver Co Inc.
(800) 771-3781
Sunwest Handmade - SWOTP store - 50% off Nov 29 - Dec 1
Sunwest on the Plaza
(505) 982-0227

specialty handmade jewelry & collectibles
Your favorite local southwest artists continue to produce some of the best work in the world. Marvel at the one-of-a-kind pieces from artists like Philander Begay, who create traditional Navajo tufa cast jewelry with intricate inlay & collectible turquoise, silver and gold.
Shop our collection of handmade jewelry from the most loved and recognized artists around the Southwest. For over 35 years, we have fostered relationships that allow us to showcase an unrivaled selection of handmade Native American jewelry.
Styles like the modern Southwest style turquoise lariat necklace, traditional & contemporary Southwest legacy squash blossom necklaces, pendants, rings, cuffs, conchos & necklaces. All made by local Native American silversmiths using techniques that go back generations. Deep hand-stamping and overlay work, pettipoint, strands of heishi and shimmering strands of traditionally made silver beads or Navajo Pearls.
Now is a perfect time to buy that collectible piece for yourself or that someone special.USe code FRI50 at checkout.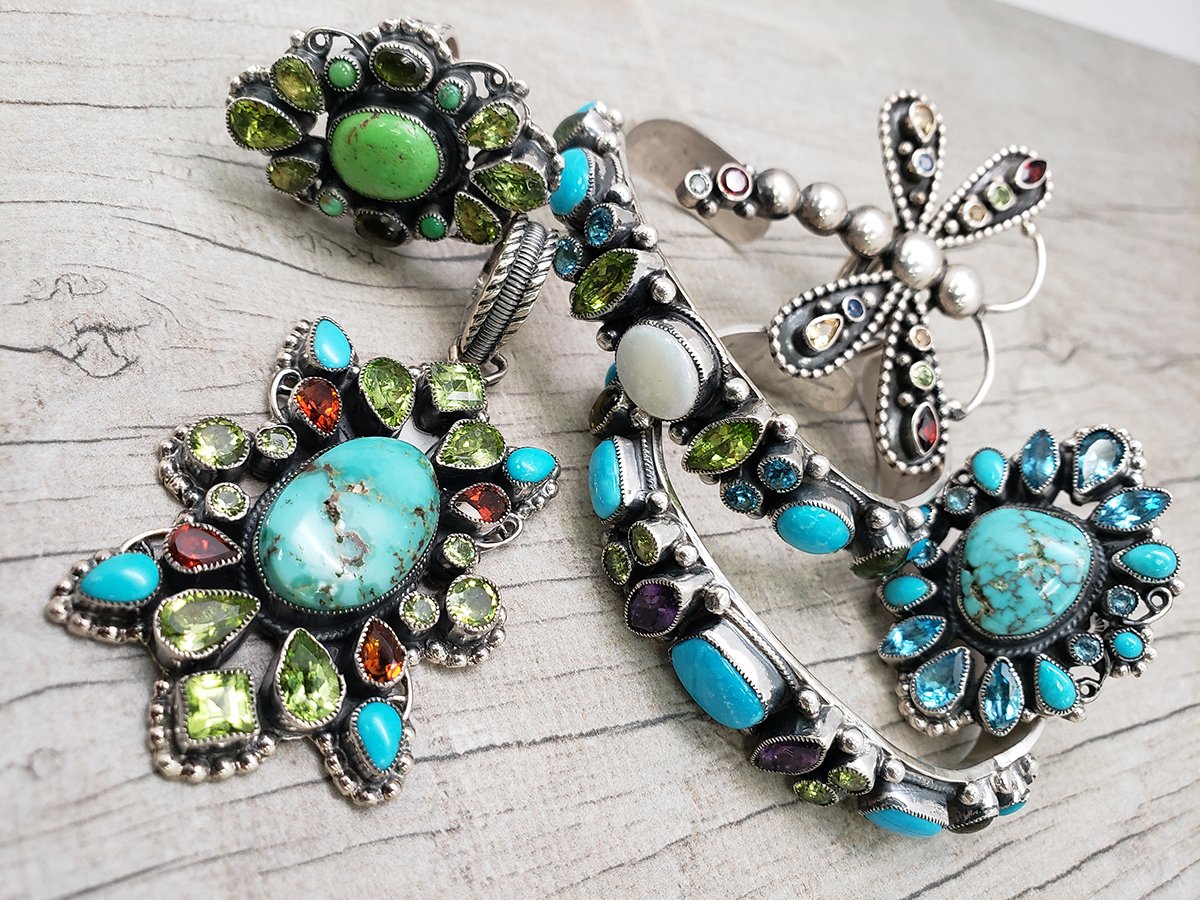 TURQUOISE AT sunwest silver co inc
Located in the heart of downtown Albuquerque and the Plaza in Santa Fe, Sunwest Silver Co Inc is the industry's leading source for turquoise, silver charms & findings, and finished handmade jewelry.
Our jewelry features the finest turquoise available in North America and exquisite collectors stone from around the world. Shop legendary Nevada turquoises like Fox, Royston and Carico Lake, or traditional favorites like Sleeping Beauty Turquoise from Arizona. Shell, sugilite, mother of pearl and White Buffalo stone are crowd pleasers and make beautiful gifts! Many are available in a variety of styles to mix and match or make a singular statement.
Browse our beautiful styles on Sunwest Handmade and use code Fri50 at checkout.