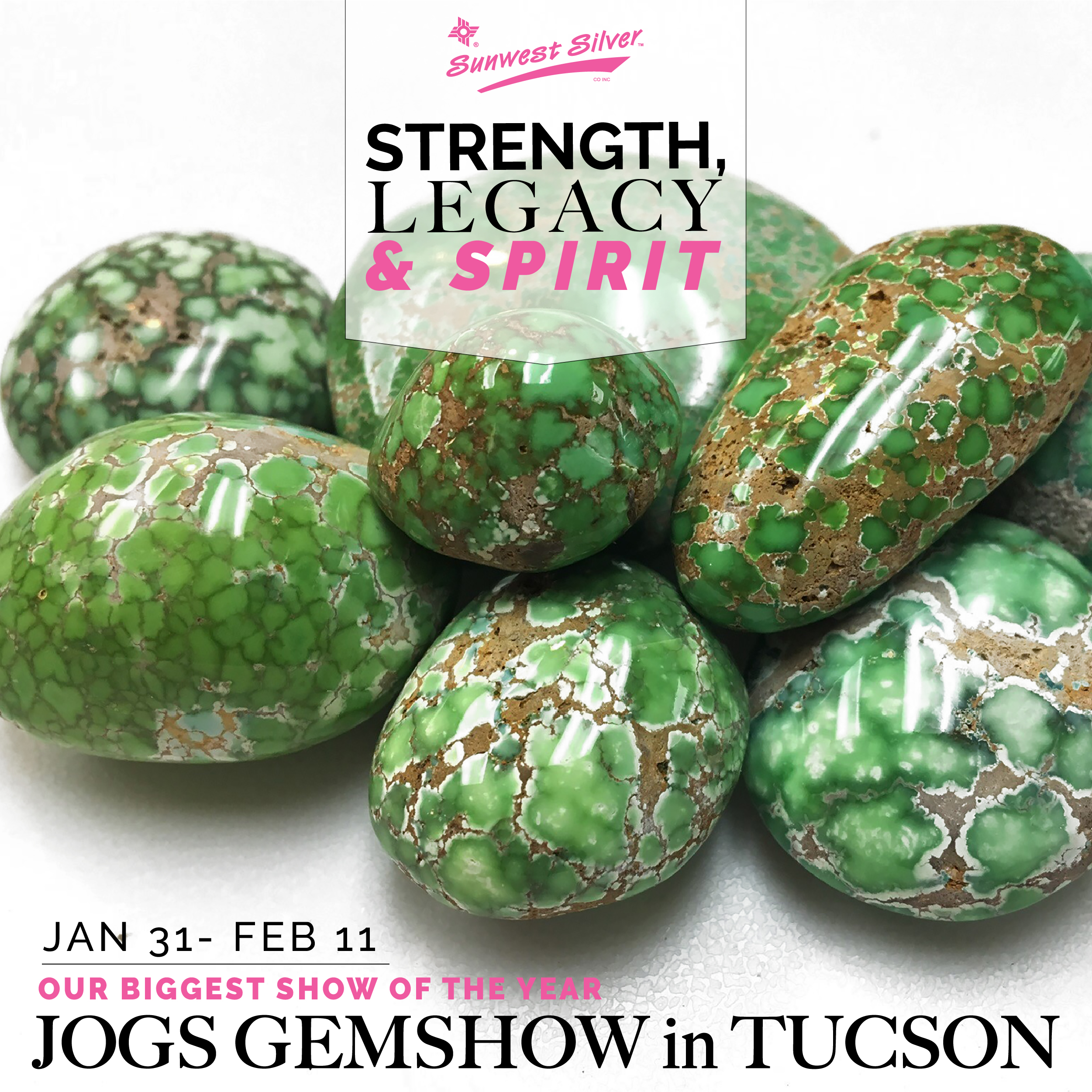 Turquoise and sterling silver jewelry of all kinds will be showcased at Sunwest Silver's premier event, the Tucson Gem and Jewelry Show. One of the leading jewelry shows in the country, this exciting event draws exhibitors and buyers from all over the world looking for innovative artists, creative designs, and new discoveries. The show brings approximately 40,000 visitors to the Tucson region annually, and generates tens of millions in spending, making it one of the largest events both in visitors and in revenue. The show will feature unique exhibits and presentations from rare private collections and international fashion shows, and an opportunity to make your own jewelry with more than 200 jewelry classes and seminars.
Sunwest Silver Company, Inc, is a leading seller of rare turquoise. Procuring the gems from mines around Southwest USA, they offer a variety of Native American turquoise jewelry that draws wholesalers from around the world. At Sunwest Silver, you can ensure you will receive a seamless wholesale buying experience from start to finish, with thousands of options to choose from. From contemporary to traditional styles, Sunwest Silver has options for all ages, all styles, and all kinds of people. A family-owned business, Sunwest Silver is the industry's leading source of turquoise, silver charms, and jewelry, created by notable and emerging artists.
One of the gems that will be on display at the Tucson Gem and Jewelry Show is Carico Lake Turquoise. A rare form of turquoise, this gem has an astonishing color palette, ranging from highly unique electric greens to sky blue; from teal to mossy, earthy greens. The gem will be available in a variety of cuts and styles, including rough turquoise and turquoise cabs. Located south of Battle Mountain in Lander County in Nevada, USA, this turquoise mine yields an extremely small quantity annually. Due to its harsh winter conditions and remote location, there is a limited amount of time to mine this rare gem. High-grade electric green makes up less than 3% of the yearly yield.
Due to its limited supply and slow production, many fear that the gem will become altogether extinct. Fortunately, the Tucson Gem and Jewelry show is a premier destination to acquire this rare and beautiful stone.
The Carico Lake Turquoise has become more popular throughout the years, drawing attention due to it's short supply and rare nature. The show brings retailers and buyers from around the world, eager at the chance to get their hands on this rare and remarkable beauty. Its unique matrix and spectacular shades of green and blue make it a remarkable gem, coveted by many designers in the industry.
Considered to have one of the largest private collection of North American turquoise in the world, Ernie Montoya's Sunwest Silver owns five major turquoise mines in the West, the Carico Lake mine being one of the his most precious. This turquoise is known to be of some of the highest grade available, and is constantly sought after.
Sunwest Silver displays a level of craftsmanship that is unmatched. One of the biggest operations of turquoise in the world, their handcrafted designs are envied by jewelers everywhere.
With its vibrant color and rich history, the Carico Lake Turquoise gem is one-of-a-kind. Sunwest Silver provides some of the finest turquoise in the country at wholesale prices. Their styles span contemporary to Native American traditional, and their pieces are crafted by some of the most talented artists in the industry. From squash blossoms and concho belts, to rough turquoise and turquoise cabs, the Tucson Gem and Jewelry show is the perfect opportunity to grab some rare, high quality Carico Lake Turquoise. Not only will there be wholesale, inexpensive prices, but also Carico Lake Turquoise in all shapes in sizes, individually and set in jewelry.
Don't miss your chance to grab this rare and remarkable stone. Come see that and much more at Sunwest Silver's booth at the Tucson Gem and Jewelry Show.
The 2019 JOGS Tucson Gem and Jewelry Show will take place from January 31 to February 11, 2019 at the Tucson Convention Center located at 260 S. Church Ave, Tucson, AZ 85701. You can find Sunwest Silver in Ballroom E12.
For more information on Sunwest Silver Company, Inc, go to https://sunwesthandmade.com/.