The only official gift show of the Wrangler National Finals Rodeo, The Cowboy Channel Cowboy Christmas is a Las Vegas tradition since 1986. And Roper Cowboy Marketplace is the largest western trade show in Las Vegas! We'll be at both shows with new styles from all of your favorite Native American & Southwestern jewelry artists, handmade for the holidays.
GENERAL INFORMATION
December 1 from 5 p.m. - 10 p.m.
December 2-11; Open Daily 9 a.m. to 4 p.m.
FREE ADMISSION

New this year, the show will open on Wednesday, December 1 from 5 p.m. - 10 p.m. for a special preview and tree lighting ceremony and then run December 2-11 from 9 a.m. - 4 p.m. daily.

Open Daily 9 a.m. to 4 p.m.
FREE ADMISSION


SUNWEST HOLIDAY GIFT GUIDE

Timeless turquoise is the birth stone for December and a favored gift in the Southwest. From elegant legacy jewelry meant for generations to come to stocking stuffers for the whole family, shopping handmade turquoise jewelry is our favorite holiday sport.

We've listed staff picks below, but the best advice comes from the owner of Sunwest Silver Co, Ernest Montoya.

"Turquoise and handmade jewelry speak to the heart. We think it's always best to choose what you speaks to you."
Ernest Montoya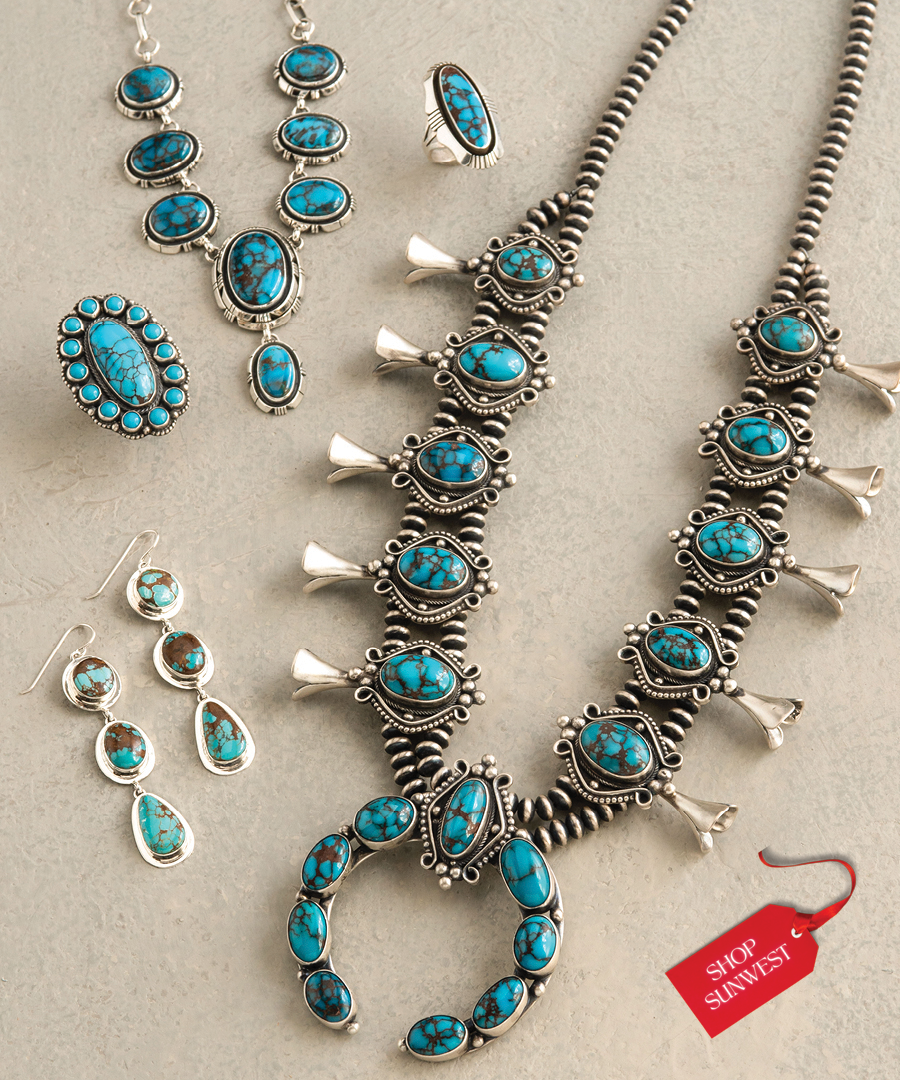 Prince Turquoise Jewelry
Celebrate a blue, blue Christmas with handmade Prince Turquoise jewelry by well-loved Diné silversmiths from New Mexico. Perfect for fashionistas and collectors alike, each stone is coming from the same mines that once supplied the legendary Pharaohs and Kings of Egypt.
Mined from the original, ancient mines of the Sinai Peninsula, Prince Turquoise is a naturally hard stone with rich color variations, strong sienna red and golden matrixes.
As in the Southwest, Egyptian reverence for turquoise is evident in historical references, and the modern culture continues to honor the significance and sacred nature of turquoise. Egyptian turquoise was used by healers, royal families and is featured in some of the most iconic Egyptian artifacts known to humanity.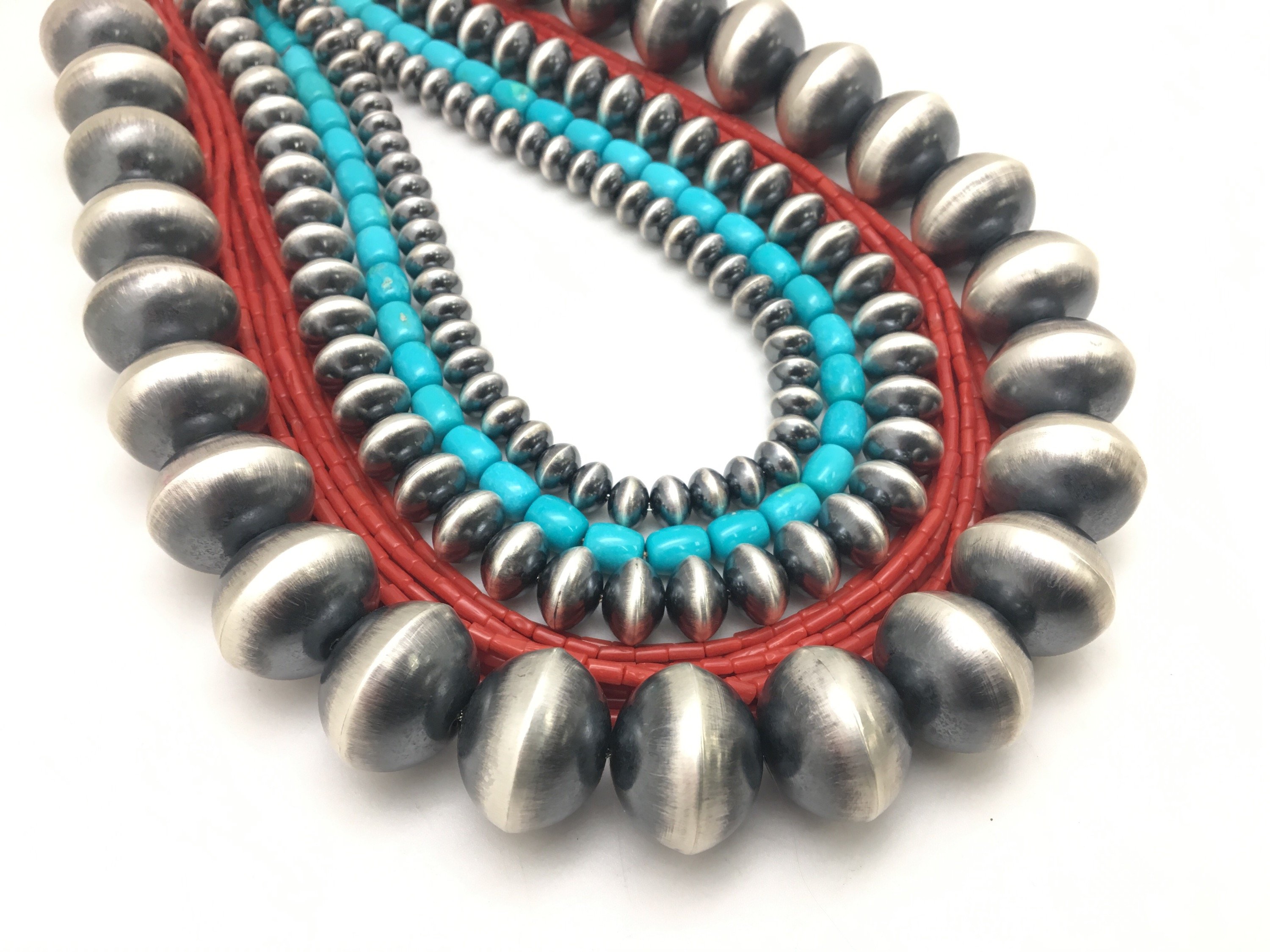 Turquoise, Coral & Sterling Bead Necklaces

Sterling & stone beaded jewelry is a long-held tradition in the Southwest. We love to layer,, and beaded jewelry complements any look or can stand alone as a simple, elegant statement. Turquoise, Coral or multi-color beaded necklaces, Sunwest OxyBead© necklaces and handmade Navajo Pearls will be available in Las Vegas at a variety of price points. Shop matching earrings & bracelets for a complete ensemble!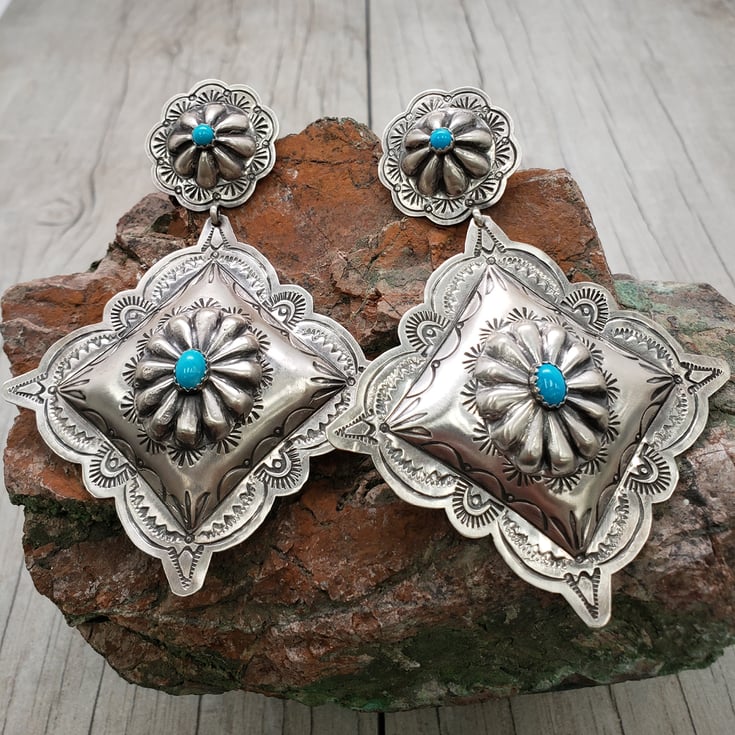 Sleeping Beauty Turquoise Earrings by Rita Lee
Stunning craftsmanship and classic, traditional style are generously represented in handmade Native American jewelry. With techniques handed down for generations through family and community, the silversmithing styles of the Southwestern Native American artists are unlike any other art form. Recognizable and collectible, handmade turquoise and sterling jewelry is an every day New Mexico tradition, but we take our holiday looks seriously! There are as many ways to collect handmade Southwestern jewelry as there are jewelry lovers. Shop your favorite artisans, turquoise mines and styles for stocking stuffers, legacy gifts and Southwest styles you will love all year.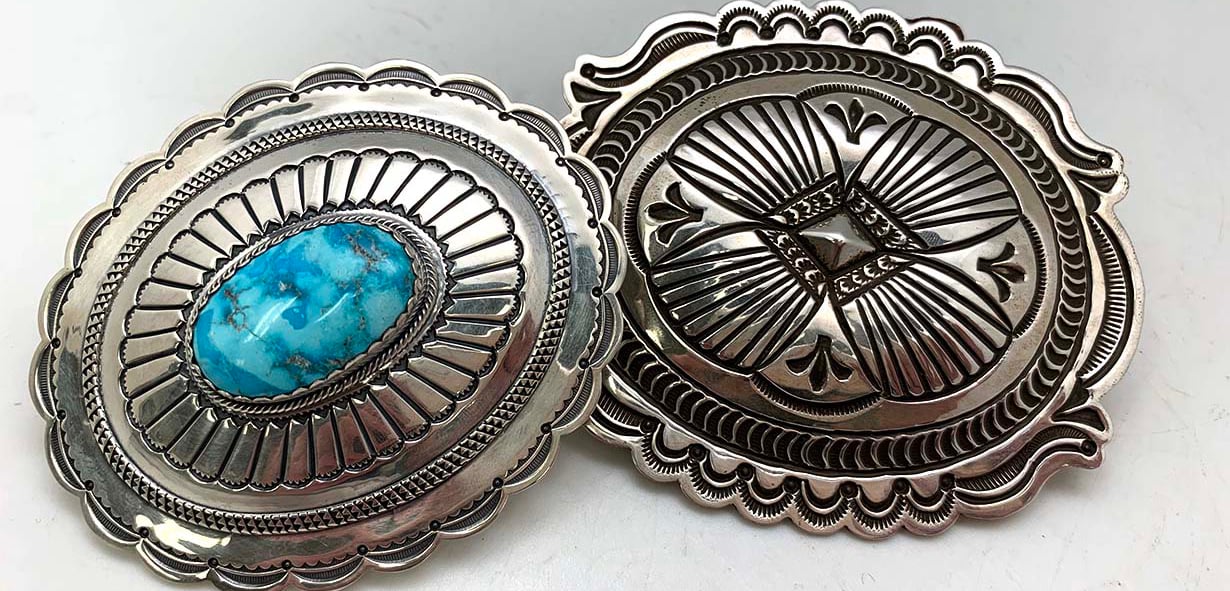 His or Hers Southwest Style
Southwestern style rodeo bling! We share the love and enjoy being in Vegas for NFR! We will have a full range of styles and turquoise jewelry from New Mexico's Native American silversmiths as well as Sunwest Jewelry lines including OxyBead© Jewelry, Liquid Silver and multi-stone beaded jewelry.
Our handmade jewelry collections include turquoise & sterling earrings, lariat necklaces, squash blossoms, bracelets, cuffs, bolos, concho belts and more! Shop his or hers western fashion or layer it up for a Santa Fe chic look.
Gifting turquoise & sterling is a heart-felt gesture and you will find styles and price points for the whole family available at our booths in Las Vegas.
Contact us if you have any questions, we'd love to hear from you.
1-800-771-3781 or Info@SunwestSilver.com