We're happy to announce Sunwest will be in Dallas for Market this October 25th-28th. This show is perfectly timed for wholesale shoppers to stock up for the holidays. Visit our booth to find Dallas show specials and many new items for the holidays. Read on for what to expect in Dallas!
Show Information
Oct 25th - Oct 28th, 2022
Registration & wholesale validation are required.
TRADITIONS IN TURQUOISE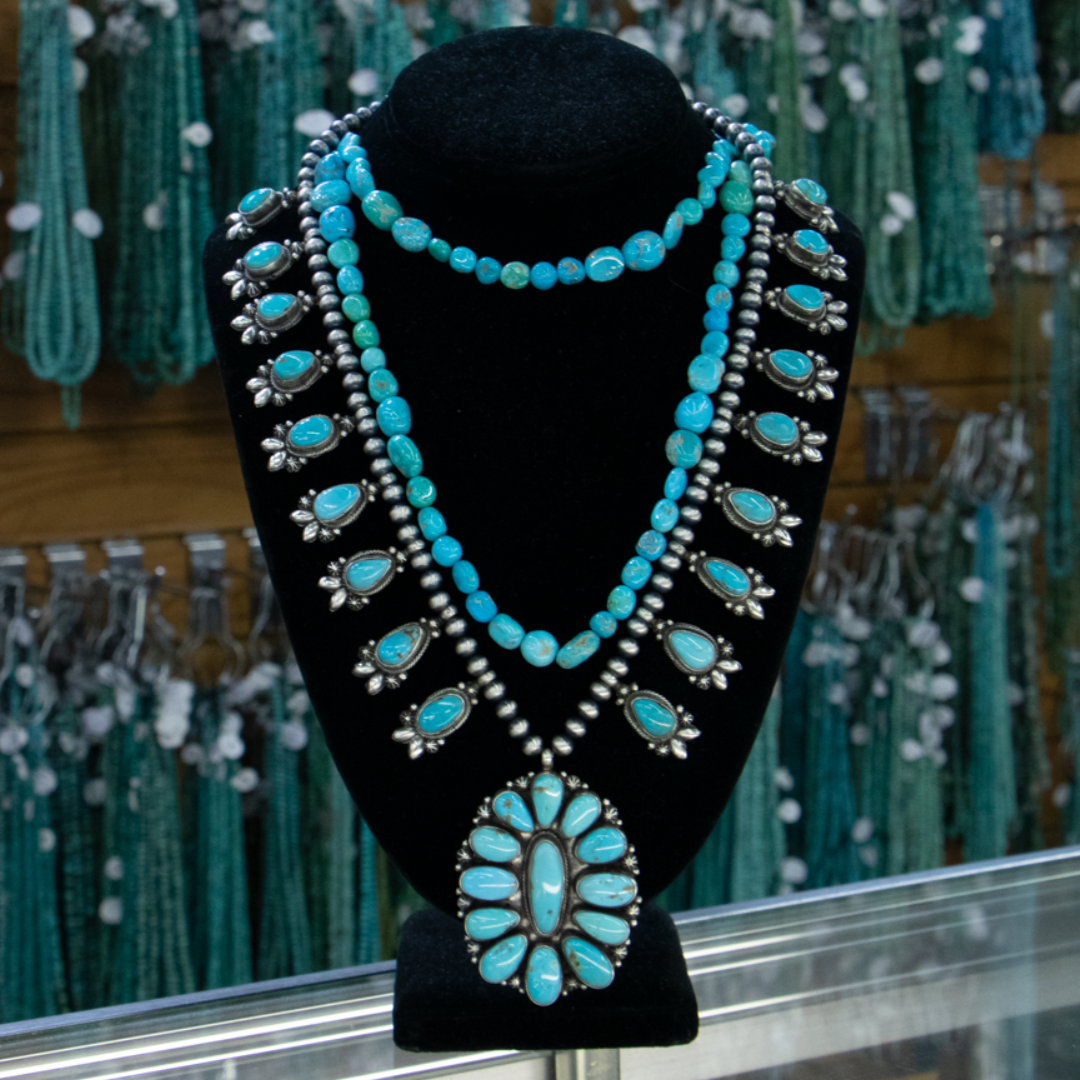 Maria Turquoise Squash Blossom Necklace by Ben Yellowhorse & natural Kingman Turquoise nugget necklace.
We'll have new turquoise creations in Dallas, including statement jewelry Squash Blossom necklaces, trending lariat necklaces, and collectibles for turquoise lovers (see image above). Our artisans have been hard at work all summer and we have a range of new styles for you to shop.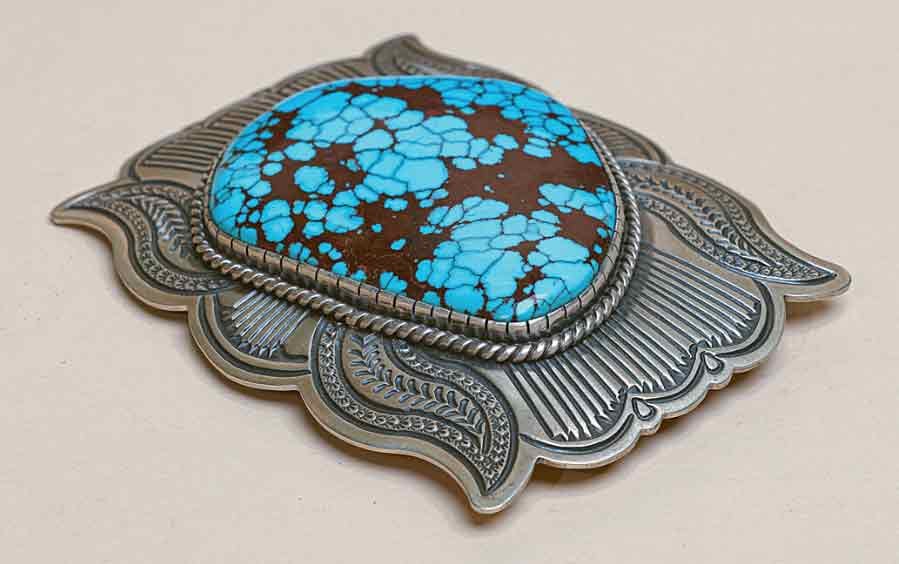 Prince Turquoise Buckle
Sunwest provides turquoise and stone for our artisans to work with. Their vision and craftsmanship combined with unique and high-grade stone allow for some of the most desirable handmade jewelry in the world to be created.
HANDMADE & FASHION CONCHO BELTS
Sunwest Silver offers a large variety of Native American-made concho belts and a best-seller line of fashion belts made at our home in Albuquerque, NM. Concho belts are a Western-style favorite and we have a line of his or her styles at every price point, including handmade one-of-a-kind concho belts by iconic Native American artists
We'll also be bringing Sunwest Jewelry lines to Dallas. Restock OxyBead© necklaces, bracelets & earrings, liquid silver styles, and beaded stone jewelry. You'll be able to shop earrings galore in sterling silver, turquoise, spiny oyster shell, and white buffalo in all styles. Stock up with your favorite Sunwest styles in Dallas!
Latest artisan designs
Santo Domingo Beaded Necklace by Torevia Crespin. Mother of Pearl, Amethyst, Apple Coral, Kingman Turquoise. Mother of Pearl, Agate, and Jet.
As trusted traders in the Southwest, we are pleased to offer a vast selection of jewelry styles by multiple Native American tribes from New Mexico. Specialty items like this Santo Domingo handmade necklace and earring set will be available for wholesale shoppers in Dallas. We'll also new works by favorite Navajo artisans in traditional and contemporary styles, Zuni artists, and emerging artisans from all over New Mexico.
Register as a wholesale shopper with Sunwest to receive your appropriate wholesale pricing:
Shop Sunwest Silver From Home
Sunwest Silver is pleased to offer virtual shopping of our Albuquerque Showroom for wholesale buyers. Our virtual shopping is by appointment only. Visit the link below for more information:
Schedule a Virtual Shopping Appointment