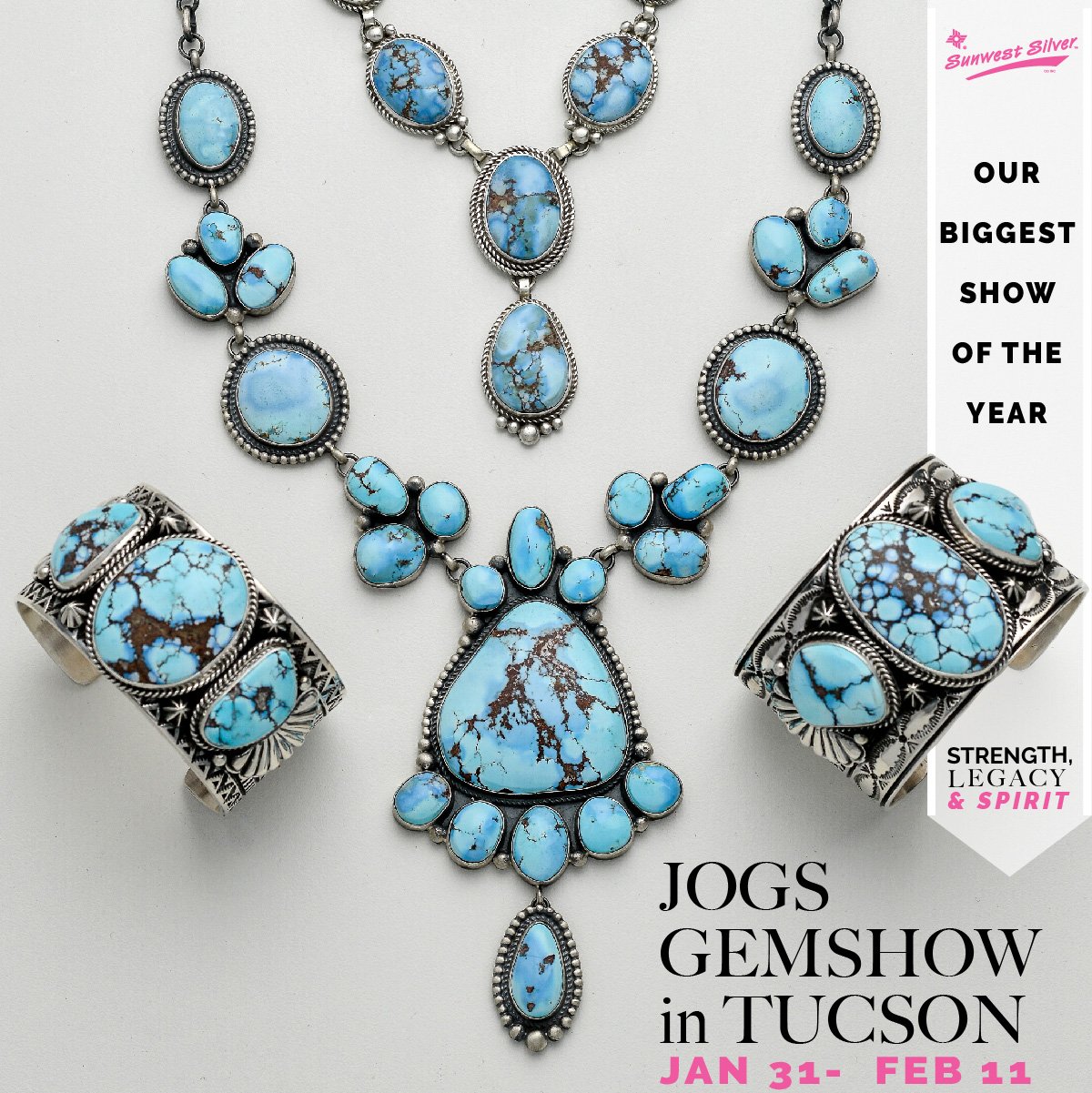 The 2019 Tucson Gem and Jewelry Show is home to a plethora of precious gems, artisan jewelry, and much more. Gem jewelers and miners from around the world come with their best quality of cut stone, cabs, minerals, and the newly discovered gems to sell at wholesale prices. The show attracts gem hunters around the world in search of rare and alluring stones to add to their collections. The show features expositions from world famous museums, private collections, and international fashion shows. This event is a paradise for turquoise hunters. You can find beautiful beads, seamless sterling silver jewelry, and a variety of rough and cab turquoise procured from Nevada and New Mexico all the way to Kazakhstan.
One of the leading sellers of turquoise, Sunwest Silver Company, Inc, will be in attendance. Whether you're in the market for turquoise variants leading the industry or newly discovered, Sunwest Silver has everything you could want. Their wholesale turquoise jewelry is one-of-a-kind, taken straight from their many turquoise mines all around the Southwest USA. Retailers and buyers flock from around the world to see Sunwest Silver's traditional, Native American & Southwest style jewelry, and plentiful turquoise variations.
A special stone available this year is Kazakhstan Turquoise, or Golden Hills Turquoise. An rare color for turquoise, Golden Hills Turqouise comes from a deposit in the Altyn Tyube mine in Kazakhstan. These stunning gems have a light blue hue to them, and a reddish, burnt umber matrix. The Golden Hills mine is known for producing large quantities of dioptase, a gem very similar to turquoise in color and strength, mimicking emerald in its magnificent green color. The turquoise deposit was found most recently 2013 and was most notably featured at the Tucson Gem and Jewelry show in January of 2014.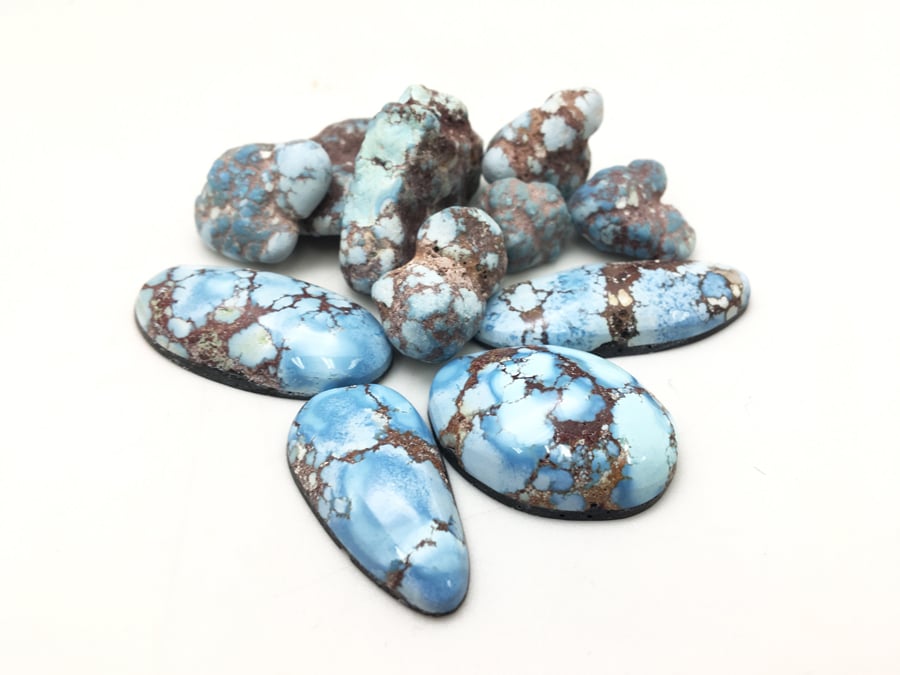 Dioptase and other gems are much more common in the Golden Hills mine, and in Kazakhstan itself, than turquoise. Golden Hills turquoise is some of the most chemically pure turquoise to be found in the world, and its color and consistency is one of the most vibrant and durable. Increasing in popularity with Southwestern jewelry artists, Kazakhstan turquoise continues to stun and dazzle jewelers aching to get their hands on it. This gem will be available in rough turquoise and turquoise cabs, as well as set in sterling silver pendants.
Why visit the Sunwest Silver booth? You can find this rare stone in a variety of forms, at wholesale prices. The Kazakhstan turquoise exceeds many others in terms of uniqueness and rarity. The light blue color contrasting the dark web-like matrix give it brilliant depth, and make it a perfect addition to any piece, contemporary or traditional. That combined with traditional Native American design and workmanship create the most exquisite, unique pieces available. You can even get your hands on some turquoise cabs to create your own, one-of-a-kind jewelry. Sunwest Silver offers rare gems and exceptional customer service, and Golden Hills turquoise represents what Sunwest Silver has to offer in terms of unique and exceptional stones.
Sunwest Silver provides some of the finest turquoise in the country at wholesale prices. Their eclectic styles are bold and one-of-a-kind, and their pieces are crafted by renowned artists in the industry. From squash blossoms and concho belts, to rough turquoise and turquoise cabs, the Tucson Gem and Jewelry show is the perfect opportunity to grab some rarely produced, high quality Kazakhstan turquoise. Not only will there be wholesale, inexpensive prices, but also Carico Lake Turquoise in all shapes in sizes, individually and set in jewelry.
Sunwest Silver displays a level of craftsmanship that is unmatched. One of the biggest operations of turquoise, silver, and more, their handcrafted designs are coveted by jewelers everywhere. Their unique combination of traditional Native American styles combined with their modern manufacturing methods produce long lasting styles and durable quality. Their traditional styles are timeless, and unmatched by any others. Come see these unique gems, and the rest of Sunwest Silver's collection, at the Tucson Gem and Jewelry Show.
The 2019 JOGS Tucson Gem and Jewelry Show will take place from January 31 to February 11, 2019 at the Tucson Expo Center located at 3750 E. Irvington Rd. Tucson, AZ 85714.
For more information on Sunwest Silver Company, Inc, go to https://sunwesthandmade.com/.