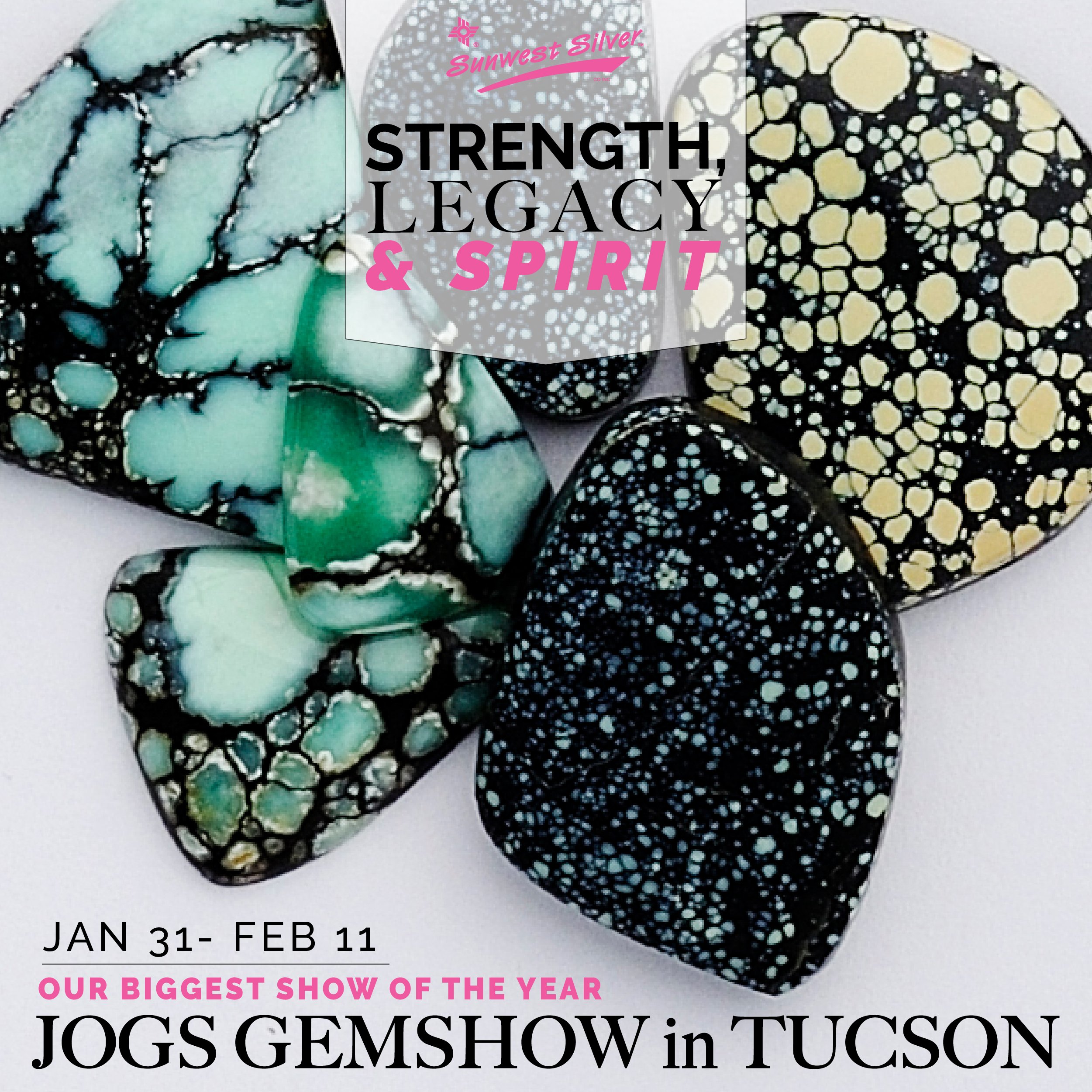 Are you searching for rare gems and silver at wholesale prices? Look no further than Sunwest Silver at the 2019 Tucson Gem and Jewelry Show. This international market draws over 40,000 visitors annually, and is one of the leading gem and jewelry shows in North America. The show features some of the best collections in the world showcasing the largest stocks to choose from. Whether it be sterling silver turquoise jewelry, or rough and cab gems, the show has everything to offer. The show will feature unique exhibits and presentations from rare private collections and international fashion shows, and an opportunity to make your own jewelry with more than 200 jewelry classes and seminars.
Specializing in wholesale turquoise jewelry, Sunwest Silver provides the industry with some of the finest gems at wholesale prices. You are sure to find exactly what you're looking for. As the owner and operator of several turquoise mines in the Southwest United States, Sunwest Silver provides one-of-a-kind wholesale stones for artists, retailers and the public alike.
While they are well known for their turquoise, Sunwest Silver will also be featuring New Lander at the event. Growing side by side with turquoise, most New Lander is Chalcosiderite, a sister stone to turquoise. Color variations will help identify Variscite, which can be mistaken for Chalcosiderite and grows in the same locations. Beloved for its spectacular spiderweb matrix, New Lander differs from turquoise with a color range including unique greens, orange, and yellow hues. The stones found in this mine are considered to be jewelry grade gems and are highly sought after by people around the world.
Chalcosiderite varies widely in shade, having been found in not only greens and yellows, but occasionally sporting white and tan tones. Chalcosiderite's popularity has begun to grow as more jewelers take note of its beautiful patterns and color. While the New Lander mine produces high quantities of stone, it only grows in a few locations in the USA. Much of the New Lander mined today features the captivating black spiderweb matrix along its face, mesmerizing jewelers around the world with its bold and distinctive design.
Variscite, one of the rarer and lesser known gems in the world, frequently finds itself misidentified due to greenish hues that can resemble its turquoise brethren. This gem retains an excellent, enviable polish that makes its highly coveted by jewelers around the world. While most notably found in shades of green both light and dark, Variscite can take on a red hue as well. Some of the best quality Variscite is found in the New Lander mine, its spiderweb matrix bold and captivating against its distinctively bright color.
Both of these gems will be available and for sale at Sunwest Silver's booth at the Tucson Gem and Jewelry Show. These New Lander stones will be offered in rough and cabs, and in a variety of jewelry and accessories. New Lander stones are placed in some of the finest sterling silver jewelry and represent the traditions of the Native people of the Southwest United States. The stylish diversity only emphasizes the quality of the gems. They exude a luxurious quality due to their glassy finish and are one of the most enviable gems that will be showcased as the Tucson Convention Center. A family-owned business, Sunwest Silver is industry's leading source of turquoise, silver charms, and jewelry, created by notable and emerging artists.
Considered to have one of the largest private collection of North American turquoise in the world, Ernie Montoya's Sunwest Silver owns five major turquoise mines in the West, the Carico Lake mine being one of the his most precious. Their gems are known to be of some of the highest quality available and are constantly sought after.
Come see the New Lander Stones, along with everything else Sunwest Silver has to offer, at the Tucson Gem and Jewelry Show.
The 2019 JOGS Tucson Gem and Jewelry Show will take place from January 31 to February 11, 2019 at the Tucson Expo Center located at 3750 E. Irvington Rd., Tucson, AZ 85714.
For more information on Sunwest Silver Company, Inc, go to https://sunwesthandmade.com/.