We're ready for WESA! The International Western/English Apparel & Equipment Market is our favorite first thing every New Year & we're looking forward to seeing you there.
General information
Jan 10 - Jan 13, 2020
WESA JANUARY MARKET
Rooms H54-57
451 E 58th Ave.
Denver, CO 80216
303-295-1040
Directions
We'll be ready to stock you with handmade Native American jewelry by your favorite artisans including Western style jewelry, OxyBead© jewelry, and custom looks by New Mexico's top jewelry makers.

This is a wholesale only show, please check with WESA if you need assistance registering.
CONTEMPORARY ARTISAN handmade jewelry
We're bringing our most popular Santa Fe styles of earrings, bracelets, necklaces and accessories for the spring season. Handmade by Annie Hoskie, these beautiful earrings are made with sterling silver and Kingman Turquoise. With price ranges to please everyone, you will be able to provide your shoppers with chic styles & choices in size, stone, color & weight.
Carico lake turquoise
Sunwest is pleased to provide a full line of Southwestern styles for him or her featuring Carico Lake Turquoise from Nevada. Green turquoise continues to be a highly sought after stone around the world, and North American Turquoise of all shades continues to hold a legendary spot in collector's hearts.
Shop collectible North American Turquoise like Carico Lake Turquoise, Sleeping Beauty, Royston and more at our booth in Denver! Available in custom artisan handmade styles and traditional forms of Native American jewelry.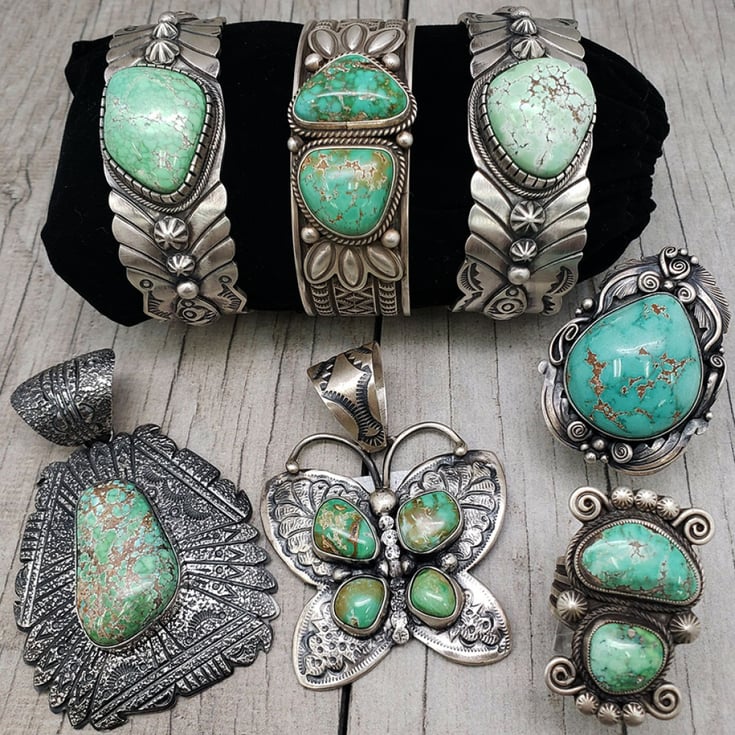 HANDMADE PENDANTS & OXYBEAD© NECKLACES
Simply Elegant! These beautiful pendants are made with Egyptian Turquoise, Spiny Oyster and Golden Hills Turquoise. Handmade by Native American artist Eglin Tom from New Mexico. OxyBead© jewelry is created in Albuquerque by Sunwest Silver and we carry a full line of beads, necklaces, earrings & bracelets in a variety of sizes & shapes.